Shockwave Therapy
We are proud to be Lindsay's original centre for extracorporeal shockwave therapy.
This highly effective therapy was brought to the City of Kawartha Lakes by Dr. Carney, in collaboration and consultation with Dr. Charles Noronha (Chief of Surgery, Ross Memorial Hospital). Prior to being able to refer to our office for this therapy, patients were often referred to Toronto to receive (expensive) care.
We are happy to be a trusted office of medical referral for this highly effective therapy, and to be able to provide it a far more economical cost than in major city centres.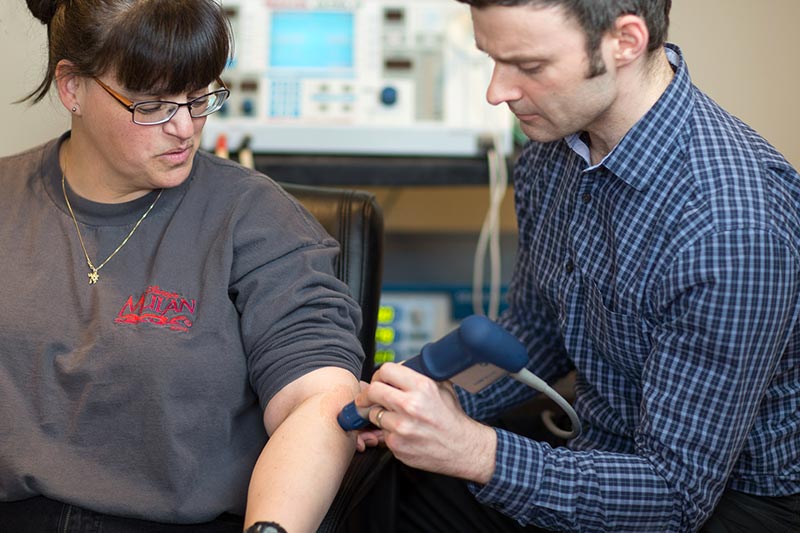 What is shockwave therapy?
Shockwave therapy is a non-invasive, out-patient alternative to surgery for those suffering from many tendon, ligament, bone, and joint disorders. ESWT (Extracorporeal Shockwave Therapy) sends acoustic shock waves into bone or soft tissue, in effect, reinjuring the area on a cellular level and breaking up scarring that has penetrated tendons and ligaments. This controlled reinjuring of tissue allows the body to regenerate blood vessels and bone cells. The resulting revascularization leads to faster healing and often a return to pre-injury activity levels.
How does it work?
Shockwaves accelerate the healing process by activating the body's self-healing abilities. They stimulate the metabolic process and enhance the blood circulation. Damaged tissue gradually regenerates and heals.
Yes, this is not a band-aid solution to provide some temporary relief of pain, but rather, a solution designed to heal the body.
Shockwave Therapy is particularly good at pain management and elimination. Specifically, the therapy is effective for three reasons: The shock waves stimulate a metabolic reaction in the affected tissue, causing stress fibers to develop and/or change in their permeability: they generate cavitation bubbles that break down calcific deposits; and they induce an analgesic reaction mechanism, which blocks pain messages.
Conditions Treated
Plantar Fasciitis
Heel spurs
Calcific tendinopathies
Tennis and Golfer's elbow
Chronic muscle tension/strain
Scar tissue
Rotator cuff tendinopathy
Achilles tendinopathy
Bursitis
Jumper's knee
Trigger points
Stress fractures
Non-healing ulcers
Delayed union and non-union fractures
Ilio-tibial band syndrome
Low back pain
Hallux Rigidus
Knee osteoarthritis
Morton's neuroma
...and more conditions!
Learn More
Continue on to Frequently Asked Questions about Shockwave Therapy:
---
Next Steps
Are you a new or potential patient of ours? Be sure to download, fill out and bring along any relevant forms to your first appointment:
---
Be sure to Contact Us or click on the button below to schedule a free telephone consultation: